INVITE KENT TO YOUR SCHOOL OR LIBRARY
Kent delivers humorous, informative, and highly interactive presentations on how he gets the ideas for his books — or teaches writing seminars — or conducts lively question & answer sessions — or even customizes workshops for special events, like awards ceremonies or literature festivals.  Just look at how much fun these kids are having: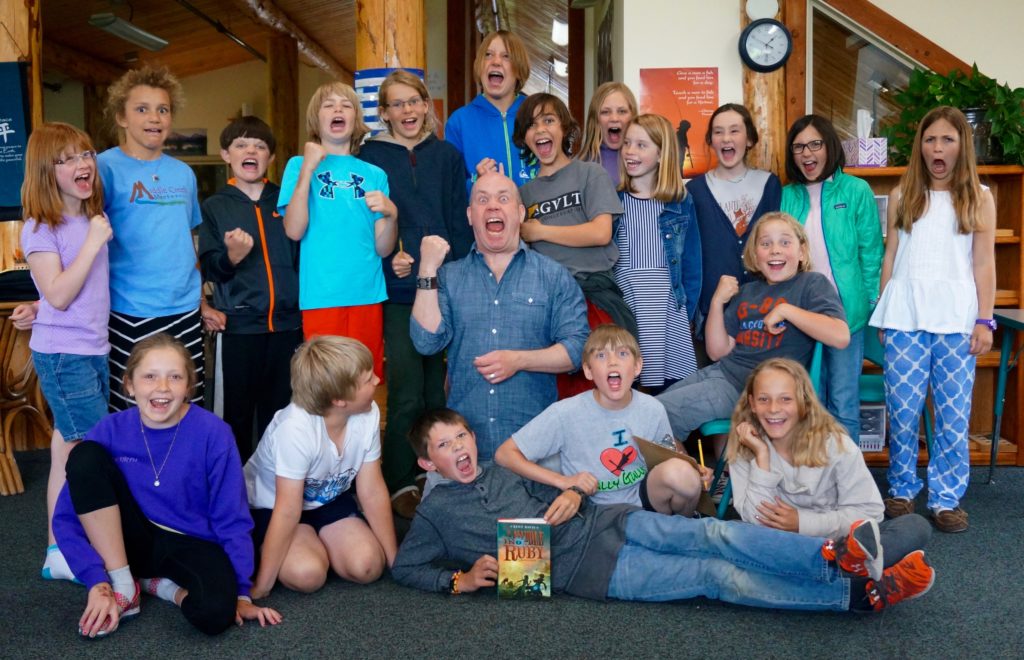 With more than 15 years experience working in classrooms with kids, Kent knows how to get your students excited about writing and reading. It doesn't hurt that he's a seasoned professional actor and improviser: he knows how to keep kids engaged.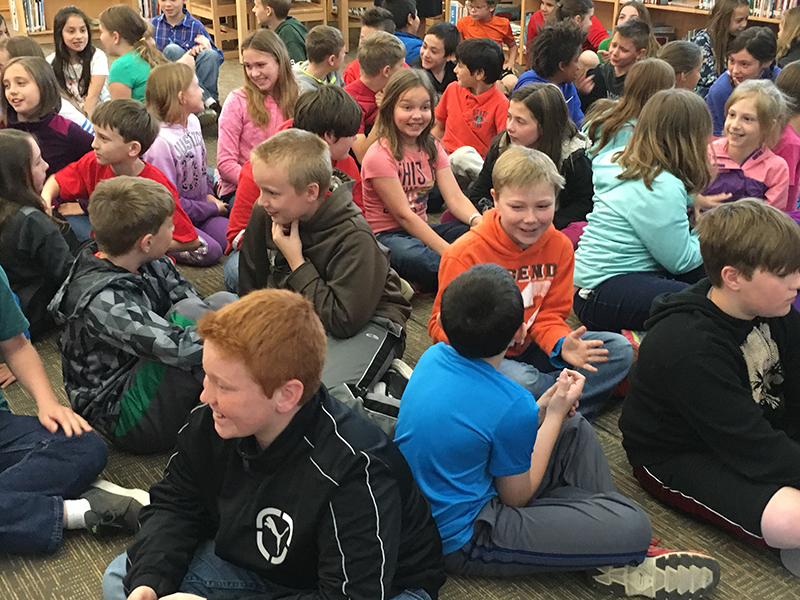 "Each presentation is unique to that audience, and Kent—also being an actor and comedian—is able to bring delight, wonder, and lots of laughs when he is speaking. I cannot recommend Kent enough as a speaker for any audience interested in writing, reading, or creative thinking."
~ Cindy Christin, Children's Librarian, Bozeman Public Library
Kent's presentation to fourth and fifth graders was fun, interactive, and filled with ideas to inspire young story writers. His mix of humor, imagination, and rich language kept the students engaged and wanting more!
~ Patricia Miller, Librarian, Long Lake Elementary, Traverse City, MI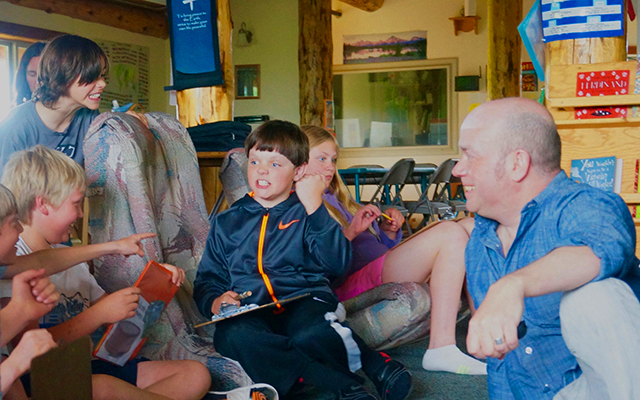 "Kent's workshop at our school had the students fully engaged from the first moment to the last. His off-beat sense of humor created an atmosphere where the students felt comfortable expressing themselves immediately. Kent's creative story-telling exercises were clever and effective. All of the students felt they had learned new writing techniques and had a great time in the process."
~ Jessica Rabinsky, teacher at Middle Creek Montessori
 THE DETAILS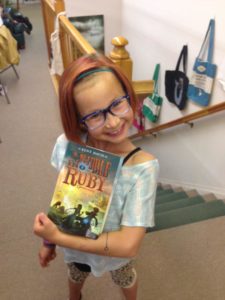 A typical full-day school visit is 3 presentations. Choose any combination of the programs from the list below. For example, if you're an elementary school, Kent could start the day with a large assembly presentation for the entire school of the "Idea Hunting" workshop followed by an "Instant Story" improv workshop in a particular grade-level, rounding out the day visiting a class (or combined classes) that are reading one of his books. Middle schools might have 3 assembly programs, one each for 6th, 7th, and 8th grades, or a series of targeted workshops.
Not sure what you want? Contact Kent to discuss possibilities. He wants to fit what he's doing with your teachers' goals. And when Kent comes to your school, he likes to stay busy and make the most of your day together. He promises, it'll be loads of fun.
THE OPTIONS
Idea Hunting (Grades 4-12):
Size: 5 to 500
Length: 45-60 minutes.
A fast-moving, interactive presentation, incorporating a dash of improv, a pinch of his new book, and a heaping ladle of fun. Attendees will delve into the mysteries of where ideas come from, writing process, taking creative risks, and collaborating with others.
Instant Story! (Grades 4-12)*:
Size: Up to 35
Length: 45-60 minutes.
A hands-on, high-energy improv comedy workshop, drawn from Kent's lifetime of teaching improvisation to kids and adults. Instant Story focuses on empowering creativity, conquering self-doubt, and building self-confidence. Improv is being used all over the US at all levels of education as a powerful tool for activating learning processes. (Secret: it's really fun, too!)
*Requires an open room, where kids can move about freely.
Twisted History (Grades 4-12):
Size: Up to 50
Length: 45-60 minutes.
What if World War II never happened? What if the South won the Civil War? What happens when authors "twist" history inside out and upside down? This workshop engages students' own understanding of history and the amazing crossroads that have been navigated time and again to form the world we live in today. Students will use techniques ranging from fantasy elements to magical realism to create stories that are historical, mostly historical, or just plain weird.
Character Writing Workshop (Grades 4-12):
Size: Up to 50
Length: 45-60 minutes.
Students in this workshop will have the opportunity to craft the seeds of a short story of their very own. Kent will lead students through a series of vibrant, interactive exercises derived from his writing and theater experience and then launch them into a focused, step-by-step journey through their personal writing process.
Writing Secrets Q&A (Grades 4-12):
Size: Up to 50
Length: 45-60 minutes.
Kent loves answering questions and makes time at the end of every workshop for students to ask them, but sometimes it's even more interesting to let the students drive. With this workshop, students have the opportunity in a more informal setting to ask questions: about Kent's process as a writer, about specifics in one of his books, how he comes up with ideas, the nuts and bolts of getting published. . . anything the kids want to know. This program is especially great when a group has read one of his books and wants a real "behind the scenes" look at how the story was created.
SKYPE
If you don't have the budget for bringing Kent to you this year (yes, budgets are tight!), consider scheduling a Skype visit.
FOR MORE INFORMATION OR TO SCHEDULE AN AUTHOR VISIT, CONTACT KENT