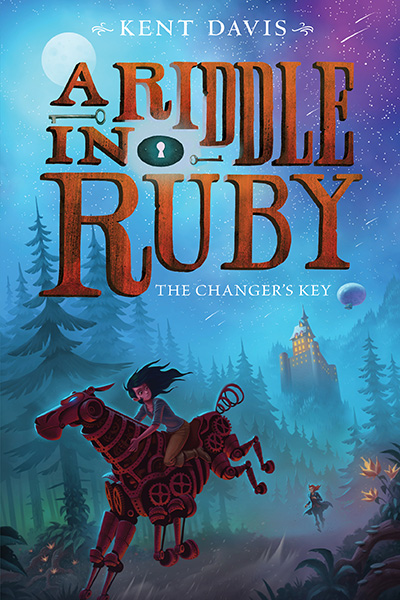 To save her friends and family, apprentice thief Ruby Teach bargained with the man who chased her across the sea and through an alternate version of colonial Philadelphia.
Now she's training to become a soldier in the war he foresees and being experimented on by the army's scientists. Ruby's blood holds a secret, if only someone can unlock it.
Meanwhile, Captain Teach and Ruby's friends—a motley crew made up of a young aristocrat, a servant, an alchemist, and mysterious woodswoman—are racing against time to find and liberate Ruby. Kent Davis's imagining of a colonial America powered by alchemy is fascinating and wholly original, and he sweeps our heroes through cities and unsettled territories with imagination, humor, and magic.
This action-packed trilogy has equal appeal for both boy and girl readers—there's never a dull moment.
"A combustive delight. Fans of Snicketian gloom will revel in the thrill. …Dastardly, heroic, and powerful roles are played by both sexes, but this tale is well-populated by members of the not-so-weaker sex ready to throw a punch. …Piracy, pyrotechnics, prison—prodigious."
– Kirkus Reviews (STARRED review)
"Davis stays true to form in this incendiary sequel. Adventure is on every page, from ship fires to spy training, all across the alternate Colonial-era world he's created." – Booklist
"This is a fast paced, story-driven novel that never feels like the second book in a trilogy. Ruby is a complex character rocked back and forth with her differing emotions. …The novel ends on a cliffhanger ensuring fans will return for the final book of Ruby's journey." (School Library Journal)
Read a sample!
Order a signed copy from my local indie, Country Bookshelf, in Bozeman, MT
Order on Indiebound |Barnes & Noble | Amazon