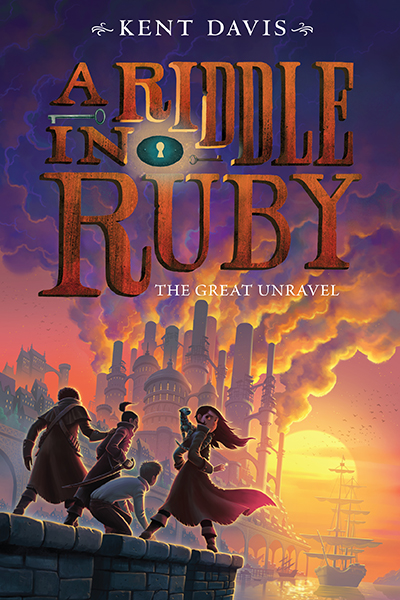 In the gripping final book in the Riddle in Ruby trilogy, young thief Ruby Teach and her compatriots must save their city from an evil scientist with nefarious plans.
In the past year, Ruby Teach has been kidnapped, taken to a remote fortress, and experimented on by an evil scientist working for the crown. And even though she's finally been reunited with her friends, her trouble has not ended. The vile Dr. Swedenborg has created a machine that steals the life force out of the unsuspecting citizens of Philadelphi, and Ruby and her crew might be the only ones brave enough to stop him. With a mix of alchemy, friendship, peril, and one adorable mechanical otter, Kent Davis's reimagining of colonial America is wholly original. The epic conclusion of the Riddle in Ruby trilogy is an engaging, hilarious, and dastardly adventure perfect for fans of The School for Good and Evil and The Amulet of Samarkand.
"A delightfully dangerous romp." – Booklist
"Action-packed and filled with great friendships, terrible villains, plot twists, and plenty of humor."— San Antonio Express-News
"A Riddle In Ruby has everything you could possibly want from a story: clever heroes, fiendish villains, startling plot twists, pirates, thieves, swashbuckling, adventure, action, mayhem – and plenty of humor. This is an exceptionally enjoyable, incredibly original series." — Stuart Gibbs, author of the New York Times-bestselling Spy School saga
Read a sample!
Order a signed copy from my local indie, Country Bookshelf, in Bozeman, MT
Order on Indiebound |Barnes & Noble | Amazon