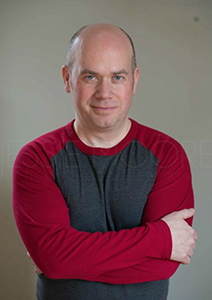 Kent Davis is me. I'm a writer, game designer, actor, and pratfall practitioner.
The Great Unravel, the third novel in the A Riddle in Ruby Series, is out in the world. The whole series features adventure, daring heroes, alchemical automatons, and both pluck and gumption.
My game design partner, Chris Organ, and I are the two geekomatics behind the award-nominated Epic RPG tabletop roleplaying game. Theater, film, and television credits as a short, bald man include an array of concerned friends, overbearing flunkies, and odd-yet-amusing next door neighbors. When I'm not writing or gaming, I teach in the Honors College at Montana State University. I'm a member of SFWA and SCBWI. Snake Oil Workshop is the place where I teach improvisation to business folks and academics.
I live in a little gray house in the wilds of Montana with my brilliant, ridiculous wife and a bold, yet wily dog-ninja. I love good food, good games, and good stories. Especially if the stories have dragons. Or wendigo. Or elusive, brain-devouring fauna.
Download File press bios.
High-res photo. 4.9k x 7.3k px
Web-res photo. 1.4k x 2.2k px
Photos are free to use. Please credit Jessie Moore Photography.