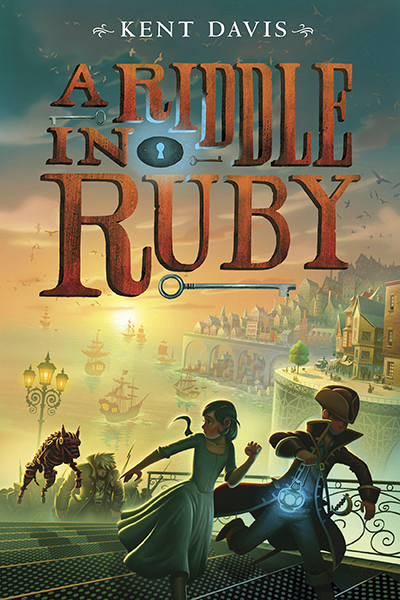 Ruby Teach is a thief.

Well, a thief-in-training. And a pirate's daughter. A smuggler. A picklock. In a world ruled by alchemists—who mix magic and science—Ruby has always relied on nothing more mysterious than her skill and her sneakiness. Swindling and stealing are straightforward.

At least, they are until she bungles the robbery of a young aristocratic lord. Now, Ruby's father has been captured, and she must flee deep into the heart of a city filled with characters both honorable and nefarious. The Royal Navy and the leaders of a notorious secret society are hot on her heels.

Because Ruby has a secret. One even she doesn't know.

The world is filled with those who would help her, and those who would use her to their own dark ends. Can Ruby trust anyone? Can she even trust herself?
"Smugglers and swashbucklers are the order of the day here, with fun and danger around every corner…. Davis' debut novel promises adventure, magic, mystery, and alchemy, all of which it gleefully provides." (Booklist)
"This tale of revolutionary intent, self-discovery, and double-crossing cross-dressing is worth the trip. Sailors seeking espionage and a cast of characters who can't sit still should embark on this series' maiden voyage." (Kirkus Reviews)
Stuart Gibbs, author of the NY Times bestselling Spy School series calls it "A staggeringly inventive thrill-ride of a book, filled with clever characters, delightful humor and ingenious plot twists."
"The world-building is fascinating, the characters entertaining, and a sequel is assured by a cliffhanger. Good fun!" (School Library Journal)
"Fast action, complex characters, and a dazzling and dangerous world make A Riddle in Ruby one of my favorite reads of 2015. " (yabookscentral.com)
"Bound from one danger to the next with Ruby and pals, narrowly escaping bloodthirsty mechanical dogs; a terrifying, maniacal scarred man; and a haughty master of chemystry (to name just a few)… Readers will happily jump on board the promised sequel." (Bulletin of the Center for Children's Books)
This Middle Grade adventure from Greenwillow Books is OUT IN THE WORLD!
Check it out for yourself! Read the first eight chapters online.
Order a signed copy from my local indie, Country Bookshelf, in Bozeman, MT
Order on Indiebound |Barnes & Noble | Amazon
Press Kit for A Riddle in Ruby